VP Public Relations: Marty Dickinson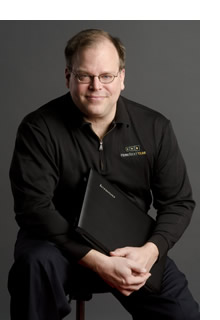 Marty joined the George Sutton Toastmasters club in 1995, the day after he was brought up on-stage at a networking event to promote his business. How embarrassed he was when he stepped off the stage and someone told him he was standing five feet away from the microphone (because he was terrified!!) during his 3-minute presentation and no one in the room heard a word he said!
After just two months as a Toastmasters member, Marty's business doubled in sales, because he was more able to pay attention to what he was saying on the phone with potential clients.
Marty credits the Toastmasters program and Toastmasters speech contests for giving him the practice and confidence to conduct his own paid workshops on the topic of web marketing, which started in 2004. In 2009 and 2012, he co-authored Web Marketing All-in-One for Dummies (Wiley 2009), which opened speaking opportunities such as with Constant Contact audiences and National Speakers Association national conference.
Today, Marty produces non-fiction books at ProduceMyBook.com where he works with speakers, business owners and coaches to produce their book in as little as six weeks without the author typing a word of the manuscript.
Along the way, Marty has given back to Toastmasters by serving as Area Director, Metro Division Director, District Web Master and various club officer roles. He has served as club president three times.
His theme for the term: You can practice speaking for your entire life and there will always be room for improvement.