President: Tim Lenz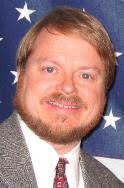 Not a Tinker, Tailor, Soldier, or Spy but Tim Lenz is the president for the George Sutton Toastmasters club for this term.
Tim joined Toastmasters in December of 2014 to improve his speaking ability. He has always been able to give presentations but knew to reach the next level he would need to practice and Toastmasters gives him that chance.
With a full-time job and running three companies, he still finds time to attend the weekly Toastmasters meetings and work on not only speaking but leadership skills too. This has come in handy as he has given technical presentations to the Denver SQL Server Users Group and is the vice president at his church's Men's Club.
When meeting a jack-of-all-trades, consider this fellow who has been a missionary, car salesman, active duty and reservist in the military, mortgage broker, government contractor, computer programmer, web designer, systems administrator, database administrator, and insurance agent, it is no wonder he feels comfortable talking to anybody.
Tim considers himself to be the man who lives and thinks "Outside the Box" and through Toastmasters to share the passion of helping others be all you can be.