Practice Your Public Speaking Skills in a Supportive Environment at the George Sutton Toastmasters Club
in Aurora Colorado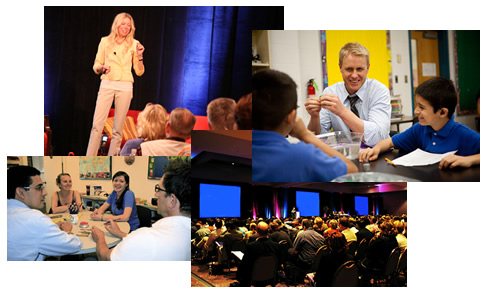 Where and When?
We normally meet in person in an enclosed boardroom style meeting room. Due to Coronavirus, we created a hybrid style meeting with members meeting online and in person. Read our About page for more details.
Why Join the George Sutton Toastmasters Club Specifically?
We have been known for years as having the "most professionally run meetings" and the "most organized club" in the area. Our VP Education schedules each member prior to the month of meetings. As a member, you always know what you're scheduled for each meeting (giving a speech, serving as evaluator, running the meeting as Toastmaster for the Day). Agendas are produced each week and we start on time and end on time…every week.
Where new clubs start and close, we've found this focus on organization, preparation, and professionalism to be the key components to our club's 34-year longevity. Come and see the difference!
Why Join Toastmasters?
When we asked our own club members how Toastmasters has helped them, these were their responses:
Got a raise at my job
Got a promotion at work
Interviewed with confidence for a new job
Increased orders in my own business
Broadened my networking contacts
Saved your marriage
Aced my college presentations with ease
I can overcome fear of anything now
Participate in conference room meetings…and they lisen to me now!
Closed record high sales last year
Uncovered a talent I didn't know I had
Talk more smoothly on the phone
Discovered enjoyment in helping others grow.
In a continually challenged economy, NOW is the most important time in history to be improving your communication and small group speaking skills.
Any of Colorado's 100+ Toastmasters clubs will work with you through the same proven program to become the speaker, presenter, and communicator you've always wanted to be! But, we feel there are just a few things that make the George Sutton Toastmasters Club in Aurora Colorado just a bit special, including:
Proven Results…
The George Sutton club in Aurora is recognized throughout the district by name as one of the most professional, organized, and structured clubs in the state. Many of our members have grown to become professional "paid" speakers and top sales people in their companies. Practically every member in a sales field or business owner has their own testimonial of how the George Sutton club is largely responsible for their record-breaking sales years.
Accomodating…
All of our members come from a variety of backgrounds and professional interests. You don't have to be in sales or a business owner to gain the benefits of Toastmasters. Some join our club to take their current presentation skills to a higher level. Most are brand new to speaking and join to overcome their fear of speaking in front of a group. A few visit simply because their boss at work TOLD them to go.
Whether you're a seasoned speaking pro or cringe at the thought of participating in even a conversation at the water fountain at work, let alone contribute verbally to a staff meeting, we will work with you to establish your objectives for improvement.
Welcoming…
You'll be amazed how welcoming our group is. There's no reason for you to be nervous or afraid to stop in and check us out. You will not be put-on-the-spot to to participate in the program. Guests just get to relax and enjoy the show.
Convincing…
But, once you see the energy and professionalism displayed at every meeting, you'll wonder why you didn't discover George Sutton Toastmasters sooner.
What to Do Next:
Take ACTION by visiting our club. Relax, have some lunch, and enjoy the show and get a feel for a typical Toastmasters meeting at our club. There's no hard press to join. We meet every Thursday at 11:30 AM. See our About Our Club page for more meeting location and time details.
Before you visit or if you have any questions about our club or Toastmasters in general, please contact us and we hope to see you as a visitor at our next meeting.