VP Membership: Barbara Peck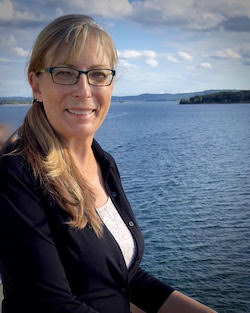 When a friend of mine invited me to attend a Toastmasters meeting, she said it would change my life. I didn't think my life needed changing, but was intrigued. At the meeting I loved hearing how expressive members were when giving a speech and enjoyed the stories I heard; most were informing and taught me a lot. Toastmasters gave me the confidence I needed to speak in front of an audience of familiar faces and also strangers. And I realized I could speak and breathe at the same time — something I had difficulty with in the past because I was so nervous. Practicing in front of positive and encouraging Toastmaster members totally eliminated that for me.
I've been a member now for 8 years and have served as club officer positions as Secretary, VP Membership and twice as President and Sgt-at-Arms and enjoy encouraging others to become better speakers.
My favorite quote is one by Henry Ford: "Whether you think you can, or whether you think you can't, you're right." If you tell yourself you can't speak to an audience you won't be able to. If you tell yourself that you might be able to if you try it, then YOU WILL BE ABLE TO DO IT !
As VP membership, I will be reaching out to inactive members and following up with guests concerning membership.