VP Membership: Lorena Arnold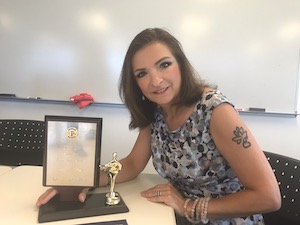 Lorena Arnold joined the George Sutton Toastmasters club in 2019. Her goal is to become a professional speaker as a personal development coach and improve her English confidence.
She went from someone who couldn't speak and breathe at the same time in front of a group and her heart seemed to be in my throat – to a confident speaker who did a live stage presentations.
You never know when someone will ask you to speak. Toastmasters prepares you for that. Toastmasters is a great supportive place to practice your speaking techniques and speaking style.
As VP of membership, Lorena's goal is to actively participate with guest what is involved with becoming a member, encourages guests to join and takes them through the sign-up process. So, anybody that you know, anybody that has come, or anybody you want to invite, send them her way and she will introduce them to our wonderful word of GST Toastmasters.
To learn more contact Lorena Arnold at Lorena@LorenaArnold.com or call Tim at 303-981-6539