George S. Sutton History: Did George Start the First Toastmasters Club?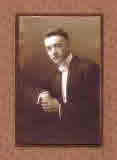 To summarize in two sentences:
George S. Sutton helped Ralph Smedley to found the first Toastmasters club.
Our club was named out of respect for Mr. Sutton, who has received little recognition for his support over the years.
For 37 years now, that's what we have told our club visitors when they inquire about the origins of our George Sutton Toastmasters club.
Recently, we have found there is more to the story about good 'ol Georgie thanks to a Toastmasters historian in District 12 named Bob Palmer, DTM.*
Be Seated When You Read this Statement!
George Sutton very likely was the man who conceptualized and started the very first Toastmasters club…and NOT Mr. Smedley!
In September of 1903, George S. Sutton was working in the position of General Secretary at the YMCA in Bloomington, IL. That month, there was a mentioning in a local Illinois newspaper called the Pantagraph of a men's Toastmaster club (notice no "s" on the end of Toastmaster) at that location.
In October 1903, Ralph Smedley was hired by the Peoria YMCA about 100 miles away from where Sutton was in Bloomington. Smedley's position was Educational Director/Assistant General Secretary. This was the first time Mr. Smedley worked in the YMCA organization.
At a banquet in February 1904, George Sutton and his wife were mentioned as "Toastmasters." Here is a re-typed version (so you can read it) of an article published in the Pantagraph newspaper on February 25th, 1904, which covered one of the YMCA banquets.
I'm wondering exactly what a "banquet" meant back then. Were there hundreds of people there? Or, were there 20-30 like most Toastmasters clubs today?
We may never know.
Anyway, here is the text from the banquet write-up:
[[Beginning of Article]]
BGM Banquet (February 25th, 1904)
The fourth banquet of the officers and committeemen of the BGMof the local YMCA has come and gone.
This last was the most successful in every way. The menu was better and the toasts by the boys were very much ahead of any formerly proposed.
This feature of the boy's work is an education in itself, for it is a rare talent, after dinner speaking especially, if it is witty or humorous.
Master William Spurgin acted as toastmaster and spoke of rapid strides that the YMCA junior work is making.
Others spoke as follows:
Archie Shaeffer: "Campin"
Sage Kinnie: "Singin"
Clark Green: "Makin 'Em Feel at Home"
Alfred Clark: "Bringin in the Boys"
Secretary Sutton (Yes, that's our boy Georgie!): "Congratulations to the Boys for their Excellent Work"
The Toastmaster called for Mrs. Sutton, who complimented the BGM officers and committeemen for their excellent showing.
All went home resolving to work harder for the success of the work undertaken after giving the association yells.
[[End of Article]]
Now, let's look at some realities that can be drawn from this write-up.
Consistency – Many of the components stated in this article are present in our Toastmasters club meetings today including having a "Toastmaster" to MC the meetings, formal speeches, "toasts" which could be thought of as an early form of table topics, use of humor…and food!
Diversity – Main speakers were all men, but Mrs. Sutton was invited to attend and comment on the meeting. Could having women present in the meetings be a rift back then between George and Ralph? Women were not officially accepted into Toastmasters in 1970.
Leadership – George Sutton was not only present, but he shared words of encouragement like a Chief Evaluator (or General Evaluator in some clubs) would at our club meetings today.
Finally, note that there was NO mention whatsoever of Ralph Smedley!
Smedley didn't even visit the Bloomington YMCA until August 1904 (6 months after the article above was published), where his claimed the first concept club for Toastmasters was formulating and would officially start the following February/March in 1905.
As published on the Toastmasters website, the first unofficial Toastmasters club meeting was held March 24, 1905 by Ralph Smedley at the YMCA Bloomington, IL. No mention of Mr. Sutton is mentioned.
We now believe George Sutton started the first unofficial Toastmasters club.
Smedley claimed HE "saw the need for the men in the community to learn how to speak, conduct meetings, plan programs and work on committees, and he wanted to help them." So, he decided to organize a club where they could learn these skills in a social environment.
But we know from recent findings that George Sutton had this same desire long before Smedley organized a first club meeting or was even working for YMCA.
We give full credit to Dr. Ralph Smedley for his work to formalize an organization that developed the Toastmasters educational program and expanded it to national awareness.
Yet, we know in our hearts and minds that Dr. Smedley would have had a tremendous uphill battle if it had not been for George Sutton to provide him with the original prototype of a Toastmasters club.
Our club was, and remains, named in honor of the man, George Sutton, who was solely instrumental in developing the first group to practice their communication and speaking skills, where every member carried the name "Toastmaster."
Hopefully, this small description may serve as our way of giving credit where credit is due.
* Historical written evidence for these findings were provided by Bob Palmer, DTM, District 12 Historian.